Siemens Gamesa's new CEO sees onshore wind as key to success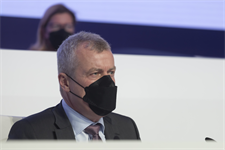 New Siemens Gamesa Renewable Energy (SGRE) CEO Jochen Eickholt sees onshore wind – and its potential for long-term value creation – as vital to the company.
The sector, which has been a weak spot for the turbine maker in recent years, offers "huge opportunities for global growth" and can help the company expand its services business, Eickholt said.
He was speaking at the company's annual shareholders' meeting in Bilbao, Spain, less than a month into his new role.
Eickholt, a member of the board of SGRE's majority owner Siemens Energy, replaced Andreas Nauen as CEO amid supply chain challenges and costs that have affected his onshore business the most.
The new CEO sees the cost pressures and supply chain disruptions rocking the wind industry as "partial and temporary", and added that Siemens Gamesa must "focus on the things that matter, give teams the means to move forward decisively and introduce operational excellence and a constant focus on execution".
Siemens Gamesa has already increased the prices of its products and services to mitigate the impact of these higher costs, Eickholt noted. The company expects rising energy prices, raw material prices and transportation costs to continue throughout its fiscal year, he added.
"Fix it and we'll fix it ashore"
Eickholt said Siemens Gamesa needs to fix unspecified flaws with its 5.X onshore wind turbine platform and begin mass production as soon as possible.
"Fixing the issues with 5.X is one of my most pressing priorities," he added. "If we can fix it, we can fix it on land."
Eickholt added: "One of our top priorities is to simplify our business wherever we can and to ensure that we have processes in place that allow us to develop and bring to market the products our customers need. need at the right time, in the right way, competitively and profitably."
Energetic transition
He said he sees good prospects for the wind industry as it is crucial for the energy transition.
Eickholt noted that policymakers have "placed their faith in wind power to enable carbon emission reductions that keep the Paris Agreement target of 1.5°C warming within reach." He added that many governments around the world were also re-examining their renewable energy targets amid a renewed focus on energy security, following Russia's invasion of Ukraine.
"We need to ensure that the right business and regulatory environment is in place to facilitate the large number of installations required," he said. "These policies must also justify the investments needed to achieve the (decarbonization) objectives."
Offshore and service
Eickholt said he aims to retain Siemens Gamesa's offshore leadership – a position confirmed this week in BloombergNEF's turbine maker market share report.
He added that Siemens Gamesa is targeting the world and highlighted the company's geographically diverse order book, as well as investments in manufacturing facilities in the UK, US and Taiwan.
Meanwhile, he added that the company's services segment continues to generate the highest margins of the company's three business units.
Eickholt sees good service prospects due to an "increased focus on the aftermarket", Siemens Gamesa's multi-brand fleet approach and its use of technology including smart sensors, advanced analytics and drones .