Review of the week: March 21-27, 2022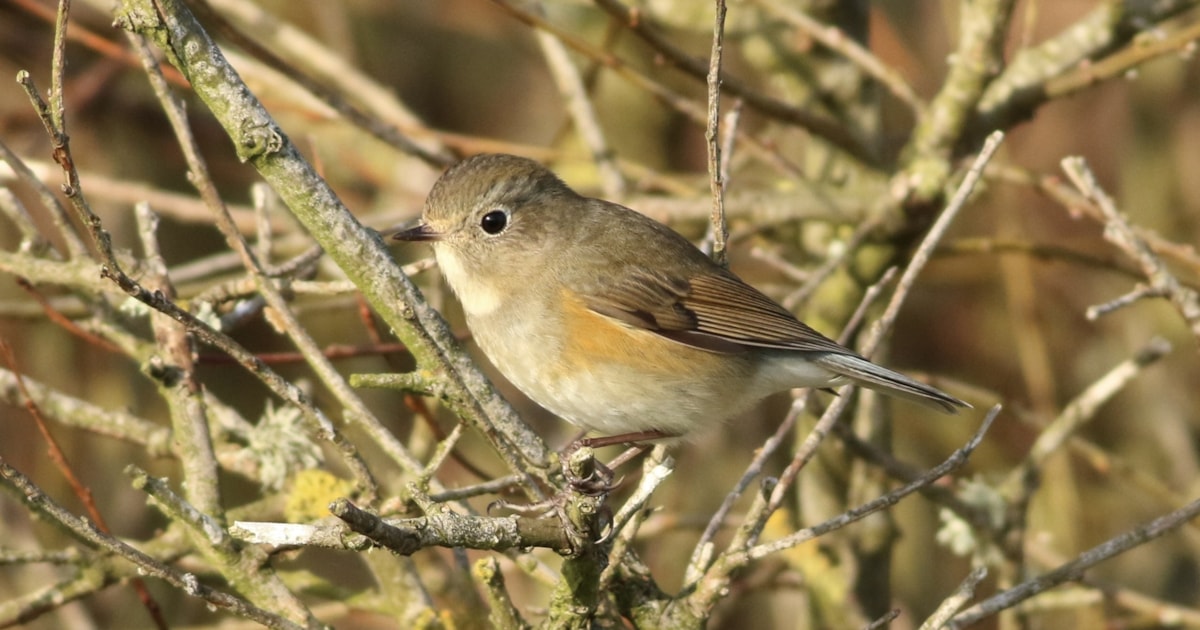 High pressure from the middle of the week brought sunshine and mid-teen temperatures for much of Britain and Ireland, alongside the first notable arrivals of several spring overruns.
hoopoes were evident in the far south west of England, with 10 Cornish sites reported, alongside Scilly birds on St Mary's and Bryher. Far from here the birds have reached Portland, Dorset, both Skomer and Skokholm, Pembrokeshire, and Sherkin Island, Co Cork (one wintering individual also held at Duxford, Cambridgeshire). five early common cuckoo clocks were also reported, including one pictured in St Mary's, Scilly, on the 23rd, followed by others in Cornwall, Argyll (two) and Co Cork.

Hoopoe, Coverack, Cornwall (Joe Jones).
Bringing up the rear were a number of European serineincluding an impressive four – two males and two females – at Coverack, Cornwall, and singles, all males, at Land's End, Cornwall, South Foreland, Kent and St Catherine's Point, Isle of Wight.


European Canary, Coverack, Cornwall (Joe Jones).
A shock Red-flanked Bluetail on Great Saltee, Co Wexford, on the 26th and 27th, was only the seventh for Ireland and the first for the county. Another was at an undisclosed West Norfolk site on the 26th. A probable Red-rumped Swallow on Finglas, Co Dublin, the 24th was too brief to be confirmed.


Red-flanked Bluetail, Saltee Islands, Wexford (Brian McCloskey).
A possible male Siberian Stonechat / Stejneger was at Rhossili Bay, Glamorgan, from the 25th. Lingering was at least two Eurasian Pendulum Breasts at Weston-super-Mare, Somerset, and a Hume's Warbler at St Margaret's in Cliffe, Kent. Singing Cetti's Warblers at Cos Cork and Wexford are considered the sixth and seventh Irish records; a probable Siberian Common Yellowthroat was in Chirk Gardens, Clwyd.


Eurasian Pendulum Tit, Weston-super-Mare, Somerset & Bristol (Andrew Steele).
Of them Little Buntings were a surprise find in a stubble field at Kelling Heath, Norfolk, from the 21st, while shore larks were at seven sites, including three different locations in Cleveland. Three Great Gray Shrike lingered in the week – at Backwater Reservoir, Angus (until the 22nd), Comberton, Cambridgeshire and Cropton Forest, North Yorkshire. On the 27th, a new dusky warbler was at Stiffkey Fen, Norfolk; another lingered in Walthamstow Marsh, London.


Little Sparrow, Kelling Heath, Norfolk (Peter Simpson).
the belted kingfisher proved reliable along the River Darwen at Roach Bridge, Lancashire, until the end of the week, although the double-crested cormorant in Doon Lough, Co Leitrim, has only been reported twice.


Belted Kingfisher, Samlesbury, Lancashire (Craig Smith).
The young Hen Harrier was recorded at Lough Boora Parklands, Co Offaly, mid-week, with the male snowy owl still on the Cairngorm, Moray & Nairn set for the past few days. A Black-breasted barn owl reported at Heigham Holmes, Norfolk, late 26th, would probably be popular if confirmed.
Also in Portlethen, Aberdeenshire, until the 25th, the Ross's goose then flew north over Lieurary, Caithness, 27th. Onward to greener pastures? Rufous-breasted geese remained on Islay, Argyll (till 22) and at Cley Marshes NWT, Norfolk, with Todd's Canada Geese at Ribble Marshes, Lancashire, and Stewarton and Tiree, Argyll. Of them Richardson's Cackling Geese were back at Aird an Runair, N Uist, Outer Hebrides, on the 23rd, with one still at Ballintemple, Co Sligo.


Ross's Goose (third from right), Westfield, Caithness (Rob Hughes).
A Grey-bellied Brent Goose was still at Kilbarrack, Co Dublin, with black goose lingering in Norfolk, Essex, East Yorkshire and Dorset. snow geesemeanwhile, were at four sites – Malacleit, North Uist, Outer Hebrides, Loch Spynie, Moray (three), Slimbridge WWT, Gloucestershire (three) and Ribble Marshes, Lancashire – and one Taiga bean goose was with the Pink-footed Geese in Errol, Perth and Kinross on the 21st. Context is everything – Shetland hosted a rare egyptian goose at Sandwick, Mainland, on the 27th


Snow Geese, Slimbridge WWT, Gloucestershire (Chris Teague).
In East Yorkshire, the Baikal Teal held at Swine Moor, East Yorkshire, with the American black duck always in Cross Lough, Mullet, Co Mayo too. Green-winged teal were at nine sites, with new finds at Eldernell, Cambridgeshire and Wilstone Reservoir, Hertfordshire, particularly sought after. The bumper Garganey the influx continued, with as many as 129 reports posted on the BirdGuides sightings pages over the week reaching as far north as Loch Calder, Caithness.


Teal, Wilstone Reservoir, Hertfordshire (Mark Rayment).
lesser scaup have been reported from Castle Loch, Dumfries & Galloway, Skinflats Lagoons, Forth (two), Coatbridge, Clyde (two), Lewis, Outer Hebrides and Oxford Island, Co Armagh. New ring-necked duck included a healthy four at Tamur Lough, Co Donegal, although the herd of six at Kenfig Hill, Glamorgan was down to five by the end of the week. Twenty-two sites in total harbored the species – this winter's record influx shows no sign of stopping anytime soon.
Lesser Scaup, Skinflats Lagoons, Forth (John Nadin).


Ring-necked Duck, Baston and Langtoft Pits, Lincolnshire (Josh Jones).
An adult duck common eider showed well at Seahouses, Northumberland, on the 20th, with common eider remaining at Loch Fleet, Highland and Musselburgh, Lothian. Musselburgh also continued to host a White-winged Scoter and three surf scoter, with another 'Surfie' still off Roseisle, Moray & Nairn. from Northumberland black scoter was again off Cocklawburn Beach midweek.


King Eider (centre), Loch Fleet, Highland (Dean Macaskill).
The North of Scotland had a monopoly on white-billed diver reports – the birds were at Portsoy, Aberdeenshire (eight); Cullen (seven) and Burghead (two), Moray; North Ronaldsay, Orkney; and Fair Isle, Shetland.
A second winter Bonaparte's Seagull at Chichester GPs, West Sussex, from the 22nd, he turned out to be the person present at Cardiff Bay, Glamorgan, between January 29th and March 13th. Norfolk's first since 2007 – an adult – was at Cantley Beet Factory, Norfolk, on the 26th, just long enough for keen locals within striking distance to catch a glimpse.


Bonaparte's Gull, GPs from Chichester, West Sussex (Mark Leitch).
In County Galway, the Forster's tern was again at Kinvarra on the 21st and the first winter Ross's Gull made a brief reappearance at Mutton Island on the 24th. Further on, Ring-billed Gulls were at nine sites, including new birds at Hough, Tiree, Argyll, Blennerville, Co Kerry (two), Cuskinny Marsh, Co Cork and Bann Estuary, Co Londonderry. Seven Kumlien Gulls in Cornwall, Outer Hebrides, Co Antrim and Co Kerry included five new birds.


Ring-billed Gull, Cork City, Cork (Harry Hussey).
A new little knight has also been reported recently at Cantley Beet Factory, with others continuing at Minsmere RSPB, Suffolk and Tacumshin, Co Wexford. the white-tailed lapwing at Frampton Marsh RSPB, Lincolnshire, also remained in place.


White-tailed Lapwing, Frampton Marsh RSPB, Lincolnshire (Robin Johnson).
Remarkably early The passage of Temminck was at Cliffe Pools RSPB, Kent, 26th and 27th; perhaps it wintered nearby and has just been detected? Elsewhere, a Eurasian Eurasian Curlew was recorded over St Albans, Hertfordshire, on the 22nd, with another heard over Ventnor, Isle of Wight, the following day.
The Ringless white stork persisted at Worth Marsh, Kent, with birds (the great majority probably from Knepp) widespread in central and southern England – reports have been received as far north as Cumbria. A single Welsh sighting, meanwhile, saw one drifting over Queensferry, Clwyd.


White Stork, Rockhampton, The Wheel, Gloucestershire (Gareth Williams).
This week glossy ibis sighting map made for an interesting sighting: the species was widely distributed throughout Ireland and southern England and Wales, with two isolated reports in the far north of Scotland – at Reay, Caithness and Westray, Orkney. New birds were at 17 sites.


Shining Ibis, Stanpit Marsh, Dorset (Jeremy Mcclements).
A Sperm whale blogged at South Whiteness Voe, Shetland, throughout the week.


Sperm Whale, Nesbister, Mainland, Shetland (Andrew Harrop).
Western Palearctic
Satellite tracking has greatly improved our knowledge of bird movements and migration, and nowhere more so than with some of our largest raptors. Still a great rarity in the Netherlands, no less than three immature Bonelli's Eagles were recorded this week, two of which were tagged by satellite in France. Germany also got in on the action, with one over Wilsum, Lower Saxony, on the 24th. Luxembourg's first eastern imperial eaglemeanwhile roosted near Clervaux overnight 24-25, before continuing southwest into France – this was a satellite-tagged juvenile female 'Artemisia' in Austria the year last.
Intense southerly winds stretching from North Africa have brought a host of Maghreb delicacies to the Spanish coast: a smart Cream colored courier in Cabo de Gata, Andalusia, from 22 to 25 and a Moroccan wagtail in Algeciras on the 25th were overcome by no less than two Moussier's Redstart in the L'Albufera de València area – men on 25 and 27 – with a little knight on the same site.
Amazingly, all of this was blown out of the water on the 26th by news of a black and white warbler – the second from Spain – wintering near Sant Joan de Mediona, Catalonia, having been present since at least February. Elsewhere, a brown booby in Irún, Basque Country, from the 22nd proved to be well received, with a laughing seagull on Formentera, Balearic Islands, and a long stay herring gull always in Muxía.


Moussier's Redstart, L'Albufera de València, Valencia (Yanina Maggiotto).
In Fennoscandia, Sweden welcomed a male pine sparrow in Nordanås from 23 and a steppe eagle flew over Törringe and Toarp on the 27th, with the popular Siberian Rubythroat always in Vargön. A return Richardson's Cackling Goose was back in Pori, Finland on the 22nd.
from Denmark Ross's goose was near Hørsfelt during the week. Otherwise a heavy roll call included the Sandflugtplantage Stejneger's Scoter and Selsø Sø White-headed duckwhile no less than two black scoter were noted – off Røsnæs and Blåvands Huk. the White-winged Scoter was still in Keflavík, Iceland.
An adult Bonaparte's Seagull at Westkapelle on the 24th, the Netherlands were only sixth. The country great spotted eagle resurfaced above Westerbroek on the 21st, while the Baikal Teal, Sultanas and pygmy cormorant everything lingered. Duck Falque duck was still in Stuivekenskerke, Belgium, as was the meena Oriental dove in Freiburg im Breisgau, Germany. A first winter Franklin's Gull was again in Taggia, Italy.
In the Channel Islands, a alpine swift broke on Pleinmont, Guernsey, on the 26th.