Metro Bilbao and Thales, a cooperation model for energy efficiency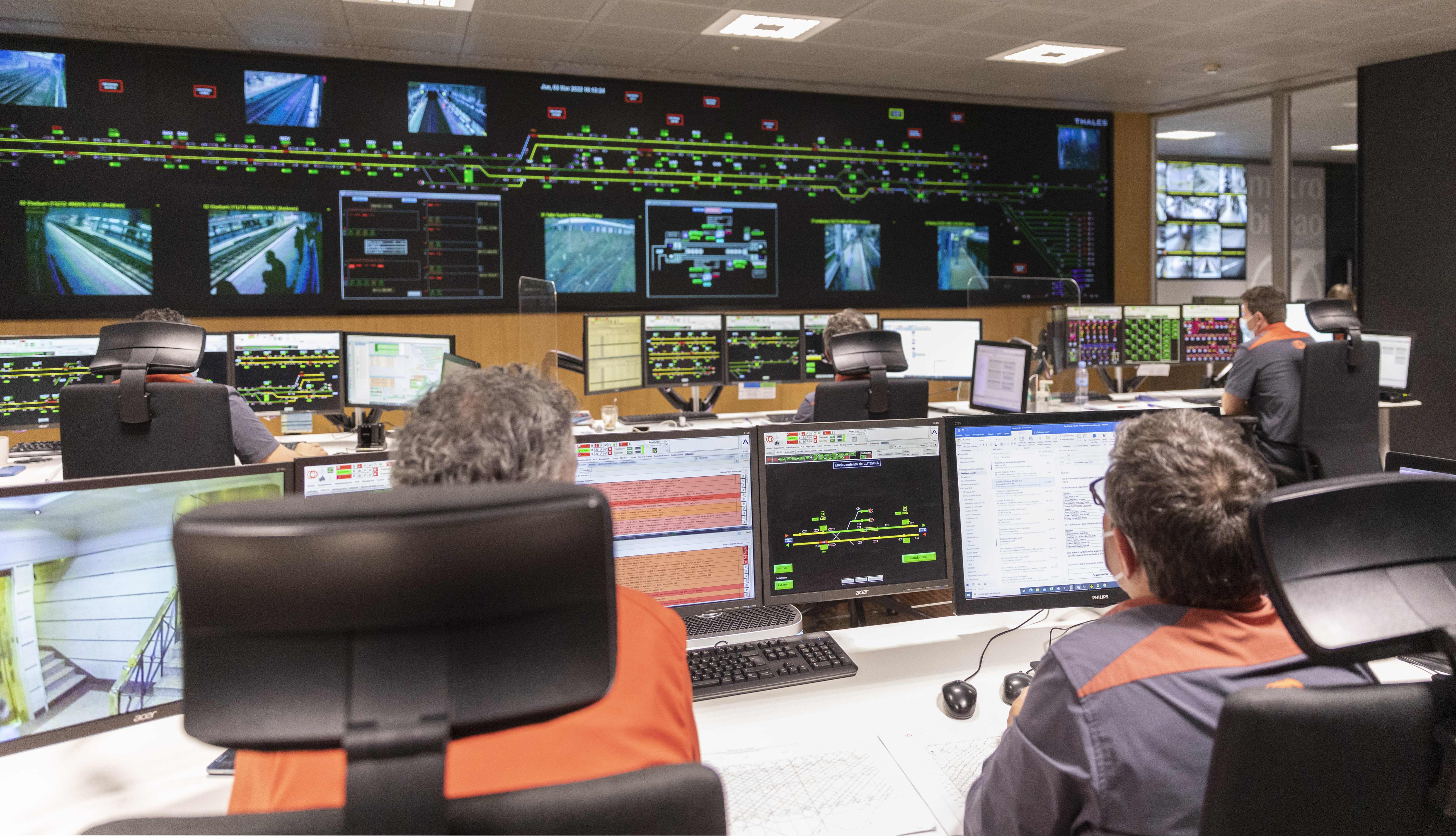 Sustainability is a priority in our society, with both economic and environmental implications. New technologies make it possible to optimize the energy consumption of public transport through various complementary strategies. Metro Bilbao, as a company committed to social responsibility, has carried out various energy efficiency projects in which Thales has collaborated, achieving a significant reduction in electricity consumption.
The efficient running scheme optimizes the speed of the trains through different driving modes. The traffic remote control regulation module controls the train in real time according to energy efficiency criteria, adapting to the theoretical operating program, to traffic conditions, maintaining travel times and respecting the requirements of comfort and operation. This strategy results in a 7% saving in traction energy consumption by 2021.
Another pioneering initiative consisted of capturing the regenerative braking energy of trains to return it to the electricity grid using reversible technology equipment installed in certain substations. In 2021, 2,095,522 kWh were recovered. Of this amount, 35.2% is reused in the stations themselves, while the remaining 64.8% of the energy saved is sent back to the electricity grid. On the other hand, the energy used has been reduced by the exchange of energy between the trains during the start-up process: 30,943,416 kWh.
Metro Bilbao has also implemented a system of optimal use of fixed installations (escalators, lifts, air conditioning and lighting) according to the volume of passengers, with a significant reduction in the level of lighting on the platforms. During train service hours, the lighting of the station is intensified by the presence of the train on the platform. Outside service hours, the lighting is activated on demand by means of push buttons installed in the station. This way, the total time with reduced lighting is 71.33%. The same happens with the escalators thanks to the pedal start system and the installation of energy savers, with an energy saving of 60%.
Finally, the Centralized Command Post, for which Thales is the technologist responsible for its installation and maintenance support, minimizes the system infrastructure necessary for supervision, avoids equipment in the stations, allowing more control for less. Additionally, the integration reduces the number of control room positions, resulting in 21 airlocks controlled by just 2 people. Energy control is carried out from a single station for both lines: 12 traction stations, 46 transformer stations, 86 km of catenary, 96 emergency fans, 57 pumping wells, etc.
Thales' relationship with the Bilbao metro goes back 30 years when, in 1994, the communication and centralized control systems for line 1 were commissioned. Since then, the collaboration between the two entities has continued, always looking to the future with a highly automated integrated command post, demonstrating the shared commitment to sustainable development of which we are so proud at Thales.